Podcast: Play in new window | Download | Embed
Subscribe: Android | Email | RSS
This week on The RLD Podcast we are talking to pattern designer and sewing blogger Jennifer DeShazer of A Jennuine Life. Some of you may know her most for her Jennuine Design shop featuring sewing patterns such as the Dressage Leggings, Verona Dress, and her newest pattern, the Satya Romper, plus more. She is going to be telling us about how she got started in the sewing business and what brought her to where she is now. She will also talk about:
the banners that started it all.
Illustrator and InDesign and how we use it as pattern designers.
Her custom cover art illustrations.
Where her inspiration for her patterns come from.
What she's currently sewing up.
Where her doll patterns started.
Her creative family and her other creative outlets.
SHOW NOTES
HERE is the link to Pattern Workshop.
HERE is the link to Dandyroo Designs, her illustrator.
HERE is a picture of her dollhouse we mentioned.
HERE is a link to the Moto Jacket pattern we mentioned.
HERE is a link to the Matinee pattern that was inspired by DWTS.
HERE is a link to Sew Caroline's Table Flowers voile fabric we mentioned.
HERE is Hayley from Mouse House Creations' website and pattern shop that was mentioned by Jenn.
HERE is a link to Melissa Q. of A Happy Stitch.
HERE is a link to The Great Pattern Hack.
HERE is a link to Rachel Ring of Handcrafted by Red.
HERE is a link to Pattern Revolution.
HERE is a link to The Handmade Marketplace book she mentioned.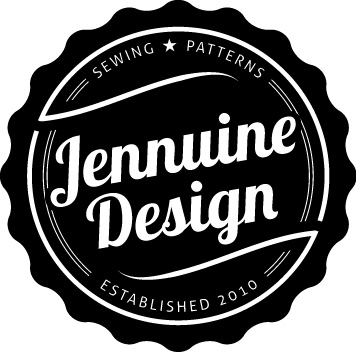 HERE is a gallery of photos from my Golden Girl collection which used the gold denim that I mentioned on the #WhatchuSewing segment.
HERE is a link to the Ginger Jeans for Closet Case Files.
HERE is the link to the Agility Tank Sports bra I'm also making.
Jennifer has graciously given all the listeners a coupon code for all the patterns in her SHOP. Use the code 'RLD' at checkout and shop to your heart's content!
Jenn is on Instagram, Twitter, Pinterest, and Facebook.
If you enjoyed this episode of The Reyna Lay Designs Podcast make sure you leave Jennifer a comment on her social media and let us know what you thought of this episode in the comments below. Thanks for tuning in and don't forget to subscribe to the RLD Newsletter to get the latest & greatest of Reyna Lay Designs.
Until next time,
Stay Creative!
ღ Reyna Lay ღ
WANT MORE  OF RLD? Check out the Reyna Lay Designs website at reynalay.com and find me on Instagram, Twitter, & YouTube at the handle @reynalay. Find me on Facebook at: Reyna Lay Designs. My Fitness page on Facebook is HERE and on Instagram HERE.
Music by BenSound
Header Photo Credit: A Jennuine Life
If you'd like to donate any amount to the RLD Podcast for hosting and website fees, or better mic equipment, you can do so below. Thank you in advance!
SaveSave